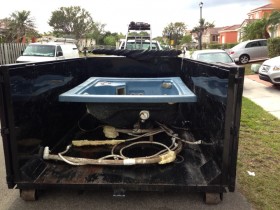 For many Miami-area homeowners, a hot tub is a great idea—at first. Many people install hot tubs in their backyards, imagining endless hours of relaxation. What they're actually met with is a tub that takes up a large amount of yard space, drains energy resources, and requires extensive maintenance. If you're tired of skyrocketing energy bills or watching your unused hot tub collect leaves and debris, call the tub removal specialists at Mark Anthony Hauling. Our team of spa removal experts will work quickly and efficiently to remove your unwanted tub and will leave your property clean of any debris, so you can enjoy your newly freed space. If you're in the market for hot tub removal, contact us for a free estimate today!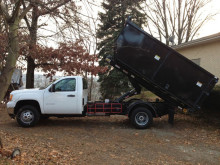 Due to the large size and heftiness of most hot tubs, it can be very difficult to get rid of one you no longer want. With many hot tubs weighing over 800 lbs when drained, most people don't have the necessary resources for removing a hot tub safely. Why risk personal injury or property damage by attempting to tackle hot tub disposal on your own? Our hot tub movers are equipped with the tools and skills required to drain and remove your hot tub or spa quickly and efficiently, regardless of tub size or where the tub is located on your property.
At Mark Anthony Hauling, our hot tub movers take great pride in providing our customers with fast, friendly service and reasonable rates. Unlike some other tub removal companies that will merely break down your old tub and leave you to deal with the remnants, our team will expertly dismantle, demolish, and haul away all of your tub components, so you can focus on reclaiming your yard space! Mark Anthony Hauling is also dedicated to being environmentally friendly, so whenever possible, we will recycle or donate any reusable materials from your hot tub or spa to Miami-area charitable organizations. When you call Mark Anthony Hauling for professional hot tub removal, you'll be able to reduce your utility bills, free up valuable yard or patio space, and help the environment. What have you got to lose? Whether you've recently purchased a home that came with a hot tub only to find that it doesn't work or you just want to recover some additional space, the spa removal specialists at Mark Anthony Hauling can help. Contact us by phone or e-mail to learn more.