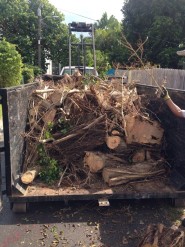 Your landscaping has a major impact on the first impression most people get of your home or business, so it makes sense that you'd want it to look its best. Piles of yard debris can detract from the aesthetic value of your property, and can even be unsafe and unsanitary. But dragging bags of leaves, twigs, and other yard debris to the curb or making multiple trips to the local dump can be time consuming. That's why Mark Anthony Hauling is proud to offer professional yard waste removal to property owners throughout Miami and the surrounding communities.
Whether you're looking to clear your property of leaves left from your seasonal cleanup or leftover sod and plant clippings from your latest landscaping renovation, we're your source for affordable, quality yard waste removal in Miami, Ft. Lauderdale, and beyond.
Contact us for prompt removal of yard debris such as:
Branches
Dirt
Green waste
Landscape debris
Leaves (bagged)
Sand
Soil
Sticks and twigs
Tree limbs
And more
All Types of Debris Removal!
In addition to our regular debris removal service, Mark Anthony Hauling offers emergency services and light construction demolition, so if you're recovering from a storm, or you need an old, dilapidated fence or shed removed from your yard, we're the team to rely on for fast, effective debris collection and disposal that will restore the beauty of your property in no time!
Superior Customer Service and Satisfaction
When you contact Mark Anthony Hauling for debris disposal, you can expect thorough, attentive service with professional results. As a family-owned business, we strive to keep our prices some of the lowest in the region, so when you need cost-efficient yard debris removal, we can help. Some of the many benefits you'll gain from our debris collection service include:
Aesthetics – The condition of your property reflects on the general perception of your home or commercial building. Don't let a disheveled yard cast you or your business in a negative light. Employ regular yard waste removal to help keep your home or business looking appealing to your neighbors and customers.

Safety – Your yard is the prime place for recreation, but an accumulation of yard debris like branches and stones can be hazardous, causing injury to family members or customers. Don't wait until someone gets hurt. Contact Mark Anthony Hauling for swift and effective debris removal today!

Sanitation – Accumulated yard waste such as leaf piles are a prime breeding ground for pests such as insects and rodents that can quickly move into your home or commercial building. Don't risk contamination of your property. Spare yourself the expensive exterminator bills by conducting regular debris pickup.
When you need to get your yard into shape quickly, you can rely on Mark Anthony Hauling to get the job done without breaking the bank. To learn more about our yard debris disposal services, call or email us today!